Foreign Secretary visits Bahrain
Foreign Secretary William Hague will meet with leaders in the government and discuss issues in the region and the bilateral relationship.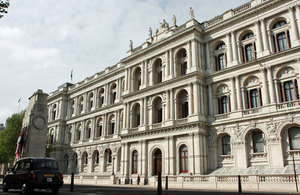 Foreign Secretary William Hague has arrived in Bahrain at the end of a three day visit to North Africa and the Middle East. Bahrain is the final stage of his visit which has included stops in Tunisia, Jordan, Yemen and the United Arab Emirates.
Whilst in Bahrain the Foreign Secretary will meet with His Majesty the King and other senior members of the Bahraini Government. Discussions will focus on the opportunities for greater political openness and economic development in the Middle East. He will also discuss the progress of the UK - Bahrain Joint Steering Committee; opportunities for both countries in trade and investment, including the recent visits by the UK Airport and Water sector groups; and regional security issues.
The British government has stressed the importance of the UK's historic partnerships in the Middle East and Gulf as part of a distinctive and long term British foreign policy and sought to enhance them further. This visit will further strengthen these ties.
The Foreign Secretary will answer your questions on the UK's role in the region through a twitter Q&A. You can send your questions from today using the hashtag #askFS and including the Foreign Secretary's twitter name @WilliamJHague.
Published 10 February 2011