Press release
Foreign Secretary visit to Lebanon
Foreign Secretary Philip Hammond announces £20 million support to the Lebanese Armed Forces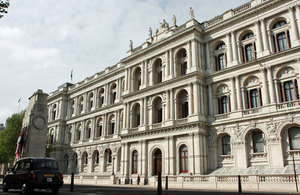 The Foreign Secretary Philip Hammond has finished a one day visit to Lebanon (31 March), where he announced an additional £19.8 million to boost Lebanon's security capabilities. The funding will help Lebanon to protect itself against terrorism, including the threat from Daesh.
During his visit, Mr Hammond held talks with Prime Minister Tammam Salam, Foreign Minister Gebran Bassil and the Speaker of Parliament Nabih Berri. He called on the Lebanese leaders to elect a President to take the country forward, reiterated the UK's support for Lebanon's stability and praised the country for its role hosting Syrian refugees.
As part of the one day visit the Foreign Secretary also toured a Lebanese military training facility in Hamat, North Lebanon. Whilst there he announced the UK's intention to spend £19.8 million in total over the next three years including £4.5 million for training at Hamat and £15.3 million for mentoring of the Land Border Regiments to protect Lebanon from terrorism including the threat from Daesh.
The Foreign Secretary Philip Hammond said:
The UK and Lebanon have a strong and long standing relationship. In meetings with the country's leaders I reaffirmed the UK's support for a secure, stable and prosperous Lebanon.
Lebanon is a partner in the Global Coalition to defeat Daesh. It is on the frontline of the crisis in Syria and faces a high threat from terrorism. Our support for the Lebanese army is enabling them to build their capabilities, strengthen the country's borders and protect the Lebanese people.
Lebanon is playing a vital role in the region with the Syrian crisis and has so far taken in over 1.1 million Syrian refugees. The UK continues to be one of the largest bilateral donors to the Syria crisis and has committed a total of £2.3 billion to the Syria crisis in the region. In addition, the UK has committed £365 million alone to promote stability in Lebanon.
Further information
Published 31 March 2016