Foreign Secretary visit to Benghazi
Foreign Secretary and Development Secretary reaffirm UK support for the National Transitional Council in Libya.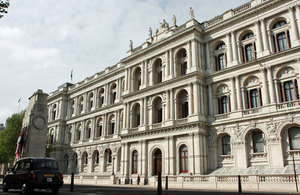 Foreign Secretary William Hague and Secretary of State for International Development Andrew Mitchell travelled to Benghazi on 4 June to demonstrate their support for the National Transitional Council and discuss the Council's plans for a political roadmap for the future of Libya.
Talks were focussed on recent progress against Colonel Qadhafi and UK assistance to help meet the Libyan people's humanitarian needs, as well as looking ahead to the future development of the country. The Foreign Secretary and Development Secretary made clear that all the UK's military, diplomatic and developmental actions were strategically aligned.
The Ministers reaffirmed their support for the NTC as the legitimate representative of the Libyan people and stressed the importance of developing plans for a competent, inclusive and transparent administration that includes clear civilian control of military and regional representation.
Speaking in Benghazi the Foreign Secretary said: "You have to see things for yourself. I've found that in so many aspects of foreign policy and there is an inspirational aspect to what has happened here in Benghazi, a city that only three months ago was on the brink of being stormed by Gaddafi's forces with all the prospects of people being killed and driven out of here. Now you can see the, the enthusiasm of people for a free Libya. You can see the National Transitional Council organising itself steadily more and more effectively and it does make a difference to see these things on the ground as well as of course to be able to discuss directly with them their continuing needs and their plans for the future."
The International Development Secretary also announced new UK support for the clearance of mines in Misrata, Benghazi and other affected areas to help ensure the safety of 200,000 people. Of some 4000 wounded persons that have been treated in Misrata alone so far, over 400 have reportedly required limb amputations. Clearing mines will help to ensure the people's safety but also help communities to return to normal life.
The Foreign Secretary and International Development Secretary visited a medical centre where they met some of those wounded in the conflict; laid a wreath at Commonwealth War Graves; met citizens of Benghazi in Freedom Square and met with leading civil society groups.
The Ministers were also able to meet with UK and international humanitarian and stabilisation teams for an update on the situation on the ground and to talk about British efforts to support the NTC and people of Libya. The UK office in Benghazi is now the largest in North Africa after Cairo. It has also recently deployed an International Stabilisation Response Team - a UK-led initiative that will help the NTC ensure a well coordinated, considered and effective response to the needs of the Libyan people. This builds on a separate team that is already helping to build command and control capacity and UK assistance that includes communications equipment, support for the emerging free media and widespread support for the police. Earlier this week the UK delivered more radios and it will soon be delivering uniforms and bullet proof vests.
Published 5 June 2011