Foreign Secretary urges Iran not to underestimate EU's resolve
At the Foreign Affairs Council in Luxembourg today the EU agreed a further substantial package of sanctions on Iran. This was a result of a push by the Foreign Secretary and his counterparts in France, and Germany urging further pressure on Iran.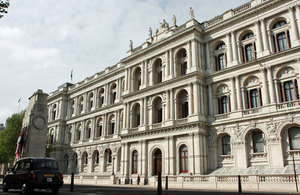 Commenting on the agreement, the Foreign William Hague said:
"The EU has today increased the pressure on Iran through another substantial package of sanctions. These are a direct response to Iran's continued refusal to take concrete steps to address our concerns about its nuclear programme.
"Despite six UN Security Council Resolutions calling for Iran to cease enrichment-related activities and offer reassurance to the world, and repeated International Atomic Energy Agency reports highlighting questions that Iran has yet to answer, Iran continues to chose the wrong path. It is enriching uranium on a scale that has no plausible civilian justification and increasing its enrichment capacity at a heavily-protected site that it originally sought to keep secret.
"The EU's message today is clear: Iran should not underestimate our resolve. The choices being made by Iran's leaders are already having a profound impact.
"Today we have taken steps to prohibit financial transactions with Iranian banks, to intensify restrictions in the energy sector and to limit some areas of trade, in order to choke off revenue that Iran is using for its nuclear programme, prevent it from accessing materials for the programme, and prevent it from circumventing existing sanctions.
"We will continue to do all we can to increase the peaceful pressure on Iran to change course and to return to talks ready to reach a negotiated solution by addressing the world's concerns. We want a negotiated solution, but Iran must show that it is willing to address our concerns".
Published 15 October 2012