Foreign Secretary urges active approach to preserving the memory of the Holocaust
27 January is Holocaust Memorial Day, a world-wide day of remembrance for the victims of the Holocaust. This year's theme is 'Untold Stories'.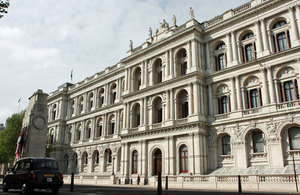 The Holocaust Memorial Day Trust is encouraging everyone to remember the millions of stories and voices of the victims so that they are not lost to future generations.
Foreign Secretary William Hague said:
"Today we remember the millions of people who were murdered or whose lives were changed beyond recognition during the Holocaust as well as those in subsequent genocides in Cambodia, Bosnia and Rwanda. In remembering we must also learn the lessons of these events. As I saw during my visit to Yad Vashem in Israel last November and as Alistair Burt learnt during his meeting with Holocaust survivors in Tel Aviv last week, it is vital to educate future generations of the evils of that period in history and of the consequences of allowing intolerance and hatred to flourish.
I am determined that the Government should take an active approach to preserving the memory of the Holocaust. This will be done through a more coordinated effort to bring justice and assistance to Holocaust victims. The Government will encourage a wider public understanding of the history of 1933-1945 and the lessons to be drawn. We will continue to challenge racism and antisemitism and promote the human rights of all people across the world. I call upon other states to do the same"
Sir Andrew Burns, UK Envoy for post-Holocaust issues said:
"Across the United Kingdom this week, hundreds and hundreds of events are being held to remember the terrible events and innumerable personal tragedies of the Holocaust era. We owe a great debt to survivors who still so readily share their memories and experiences with us, but their numbers decrease each year. It is heartening to know that there are so many teachers and educators in this country who ensure year round that we never lose our collective memory of those times and that we all, and particularly the younger generations, understand the need to be always on the watch to prevent any resurgence of racial, religious and ethnic prejudice."
Deputy Prime Minister Nick Clegg recorded a video message to mark Holocaust Memorial Day. Earlier this week, Prime Minister David Cameron signed the Book of Commitment for Holocaust Memorial Day. The Book of Commitment is signed by hundreds of MPs every year as a pledge to fight prejudice and hatred.
On 25 January Sir Andrew Burns, UK Envoy for post-Holocaust issues, launched "The Holocaust Explained" website at an event in the Foreign Office. He also recorded a podcast - listen to it or read the transcript here.
Published 27 January 2011