Foreign Secretary updates Parliament on South Sudan
Foreign Secretary William Hague has updated Parliament following South Sudan's secession from Sudan on 9 July.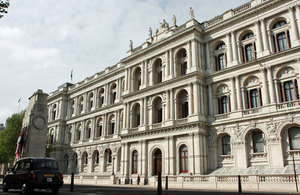 In a written statement the Foreign Secretary said:
The Republic of South Sudan became an independent sovereign state on Saturday 9 July. Both it, and the country from which it is seceding, the Republic of Sudan, face many challenges ahead. South Sudan's independence comes as part of a negotiated settlement which brought an end to long years of civil war. This is an African solution to an African problem, and shows how conflict can be resolved through negotiation. We should recall that South Sudan's independence comes as a result of a widely-acclaimed referendum in January 2011 where almost 99% of those voting opted for secession.
We welcome the birth of this new nation. The Prime Minister was pleased to announce that the UK was among the first to recognise the Republic of South Sudan on 9 July. I attended the independence ceremony on 9 July along with many heads of state, the Secretary-General of the United Nations, and high-level representatives of many countries and international agencies. This was an historic moment for Africa. We look forward to strengthening our relationship with the Republic of South Sudan, and helping it on the path towards stability, good governance and prosperity. I commend the Republic of Sudan for not only accepting the result of the referendum but also being the first to recognise its new neighbour.
However, I am concerned that, since January we have seen violations of the Comprehensive Peace Agreement, and outbreaks of violence in Southern Kordofan and Abyei and elsewhere, and negotiations have failed to resolve all outstanding issues between the two countries, despite the efforts of the AU-led mediation and the support of the international community. We continue to urge both countries to display the necessary leadership and spirit of compromise to reach a negotiated settlement to all outstanding issues as soon as possible, so that their citizens may enjoy the peace, stability and prosperity they deserve.
Published 11 July 2011