Foreign Secretary updates Parliament on response to Libya crisis
Foreign Secretary William Hague has updated Parliament on the response to the situation in Libya following the G8 Foreign Ministers meeting in Paris.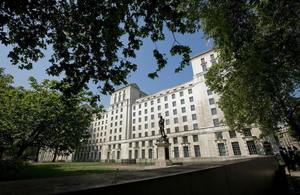 Speaking at Foreign Office Questions the Foreign Secretary said:
International response
The UK is at the forefront of the international effort to isolate the Gaddafi regime, deprive it of money, and ensure that anyone responsible for abuses will be held to account. We have taken swift action in the United Nations Security Council and the UN Human Rights Council.

I have just returned from the G8 Foreign Ministers in Paris where we agreed on the need for urgent consideration in the United Nations Security Council of a wide range of additional measures to protect the Libyan population from attack.

Time is of the essence. We have been urging our colleagues in the G8 and elsewhere to agree to further urgent considerations at the United Nations Security Council.
Sanctions
We have widened the restrictive measures against individuals close to Gaddafi, we have added the Libyan Central Bank and the Libyan Investment Authority to the EU asset freezing list, and in doing so the United Kingdom has increased the total of frozen Libyan assets in this country from two billion to twelve billion pounds in total. We would now like further sanctions to be debated and agreed at the UN in New York.
No-fly zone
We are working closely with partners, including with the UN, EU and NATO, to develop contingency plans to allow the international community to respond quickly and effectively to the situation on the ground in Libya.

This planning covers a range of options, including the possible establishment of a no-fly zone, and, as I've mentioned Mr Speaker, G8 Foreign Ministers have welcomed the recent declaration of the Arab League which called for measures to support and protect the Libyan population, which included a reference to a no-fly zone.

Anything that we do, of course, has to have a clear legal base and it has to have widespread international support.
Why we need to act now
We're very conscious of the ability that the Gaddafi regime has shown to strike back without compunction at its own civilian population.

If Libya was to be left as a pariah state, particularly after these recent events with Gaddafi running amok exacting reprisals on his own people, estranged from the rest of the world, as a potential source for terrorism in the future, that would be a danger to the national interest of this country.
Published 16 March 2011