Foreign Secretary: UK wants to build an effective partnership with Egypt
Foreign Secretary William Hague met President Mursi, Prime Minister Qandil and Foreign Minister Mohamed Kamel Amr during his visit to Egypt today.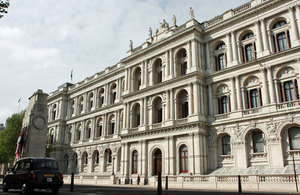 Speaking from Cairo the Foreign Secretary said:
"This visit has served to further broaden and deepen already strong ties existing between our two countries.
"I told President Mursi that Britain will continue to support the political and economic transition in Egypt and I delivered a letter from Prime Minister David Cameron to President Mursi inviting the President to visit London in the near future. We want to build an effective partnership which will strengthen democracy in Egypt, build prosperity and increase security for the people of both our countries.
"Our economic ties are strong. The UK is the largest foreign investor in Egypt, and during this visit I have met with British companies operating here. But we want to do more and I am pleased to announce that our Minister for Trade will lead a large delegation to Egypt covering key sectors, building on the very successful visit by the Prime Minister in 2011."
"We also discussed the recovery and restraint of Egyptian assets in the UK. To take this important work forward, the UK has proposed seconding an expert to work in the Egyptian Prosecutor General's Office.
"Egypt is an influential international leader, and we are working very closely together on key foreign policy issues such as the appalling situation in Syria. I welcome President Mursi's strong statement in Tehran on Syria, where he condemned the regime's actions. I also welcome Egypt and the Arab League's work with the Syrian political opposition.
"As a sign of the importance we attach to cooperating on international affairs, the UK will, through Wilton Park, a global forum for strategic discussion based in the UK, form a partnership with the Egyptian MFA. The partnership will convene conferences in Egypt on foreign policy issues. The outcome will be a richer and more informed debate on matters of regional and global concern, and will provide a strong Middle Eastern voice on foreign affairs."
Wilton Park is a world renowned centre for discussion where leading figures meet to advance policy on key global issues. Founded in 1946 at the behest of Winston Churchill, it is now an academically independent Executive Agency of the Foreign Office based at Wiston House in Sussex.
Visit coverage via storify:
[View the story "Foreign Secretary visits Egypt" on Storify]
Published 11 September 2012