Announcement
Foreign Secretary: "UK remains committed to supporting the people of Zimbabwe"
From:

Part of:

First published:

17 February 2011
This was published under the 2010 to 2015 Conservative and Liberal Democrat coalition government
Foreign Secretary William Hague has commented on the rollover of the EU's restrictive measures on Zimbabwe.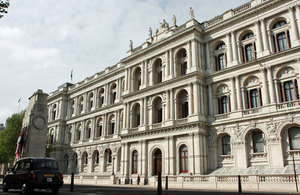 The EU yesterday announced the rollover of the restrictive measures on Zimbabwe for a further twelve months. The arms embargo on Zimbabwe and the travel ban and asset freeze on 163 individuals and 31 entities will remain in place.
However, following an in-depth assessment, the EU agreed a modest revision, removing thirty five people who have been identified as no longer having any involvement in human rights abuses, undermining democracy and the rule of law from the EU list of those subject to a travel ban and asset freeze.
Foreign Secretary, William Hague, said:
"This rollover of the Restrictive Measures on Zimbabwe reflects the fact that the economic progress that has been made since 2008 has not been matched by progress in key political areas such as the rule of law, democratic reforms and the creation of an environment conducive to free and fair elections.
"We have just passed the two year anniversary of the formation of the Government of National Unity and I am particularly concerned that the upsurge of political violence and intimidation that we are seeing suggests a pre-election intimidation campaign is gathering momentum.
"The UK remains committed to supporting the people of Zimbabwe. We gave our largest ever aid package to Zimbabwe last year and with free and fair elections and a reforming government in place the UK will significantly increase its aid to Zimbabwe over the next four years.
"The EU has also made clear its willingness to revisit the Restrictive Measures within the next twelve months in response to concrete progress on the ground, particularly in terms of the creation of an environment conducive to the holding of free and fair elections. This is essential to achieving a Zimbabwe that is democratic and stable.
"The EU's Restrictive Measures are targeted at those who corruptly appropriate the country's wealth for their own personal benefit and who violate the human rights of others in doing so. The Measures also contain an arms embargo and a restriction on direct budgetary support to the Government of Zimbabwe. Development aid from the EU will continue to be channelled through the UN and non-state actors."
Document information
Published: 17 February 2011