News story
Foreign Secretary Twitter Q&A on the London Conference on Cyberspace
Foreign Secretary William Hague answered questions ahead of the London Conference on Cyberspace in November.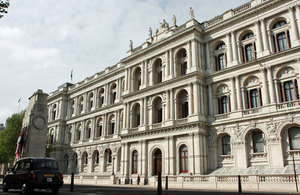 On 1-2 November, at the first conference of its type, the Foreign Office will be bringing together governments, businesses and civil society to talk about how we can best protect and preserve the tremendous opportunities that the internet offers.
In advance of the London Conference on Cyberspace, Foreign Secretary William Hague answered your questions about the key issues that should be addressed.
Within the space of just over a decade cyberspace has revolutionised how many of us live and work. Access has grown from 16 million internet users in 1995 to nearly 2 billion today, more than half of whom are in developing countries.
Against the backdrop of the rapid development of a globally networked world, the conference will concentrate on five themes including economic growth and development, social benefits, cyber crime, safe and reliable access and international security.
Replay the questions and answer below.
Stay up to date with the conference by following @LondonCyber and using the hashtag #LondonCyber.
Published 6 October 2011