Foreign Secretary to host London Conference on Cyberspace 1-2 November
Foreign Secretary William Hague will host the London Conference on Cyberspace starting on 1 November. Governments, international organisations, NGOs and businesses from across the world will be attending.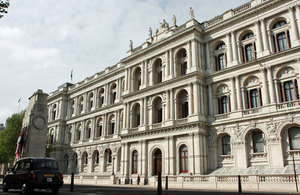 The conference will start to address how all of these key actors in cyberspace can maintain the economic and social benefits of the internet and guard against the criminal and security threats posed in cyberspace.
Speaking ahead of the conference, the Foreign Secretary said:
"How to ensure we can all reap the benefits of a safe and secure cyberspace for generations to come is one of the greatest challenges we face. The response does not lie in the hands of any one government or country but it is too important to be left to chance. This needs to be a collective endeavour, involving all those who have a stake in cyberspace. The ideas and proposals we hope to emerge from the conference will develop into the 'London Agenda' - an inclusive and focused approach to help us realise the enormous potential cyberspace offers for a more prosperous, safe and open networked world."
Read the full text of the Foreign Secretary's speech at the London Conference on Cyberspace reception
The Foreign Secretary announced the conference in his speech "Security and freedom in the cyber age - seeking the rules of the road". He outlined the social and economic benefits of the internet, and the need to ensure a safe and secure cyberspace for the future, in an article placed in 43 countries worldwide.
Key speakers include: Helen Clark, Administrator of the United Nations Development Programme; Jimmy Wales, founder of Wikipedia; Atiaf Alwazir, Yemeni activist and researcher; Sachin Pilot, Indian Minister of Communications; Yu Zhou, Vice President, Tudou.com; Eugene Kaspersky, CEO Kaspersky Lab.
You can get involved in the online debate by following @LondonCyber and using #LondonCyber to tweet comments and questions during and ahead of the Conference. You can also post questions/comments on the Foreign Secretary's page on Facebook. Selected questions will be fed into the live Conference sessions. You can add one of thematic hashtags so that we can match your question to the right session:
The main sessions from the Conference will be live streamed.
Published 1 November 2011