Foreign Secretary statement on Syria
The Foreign Secretary William Hague said the UK will expand its support to the Syrian people and political opposition with an extra £5 million in non-lethal practical assistance.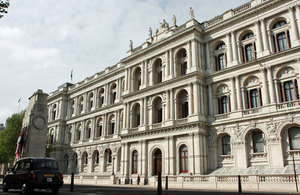 Speaking today, the Foreign Secretary said:
"It is well recognised in the country that the situation in Syria is an affront to the conscience of humanity. Tens of thousands of people have died or are suffering, from cities like Aleppo to refugee camps in Jordan, Lebanon and Turkey.
"All nations have, in our view, a responsibility to act together to stop the bloodshed, and none more so than the members of the United Nations Security Council. On 30th August, later this month, the Security Council will meet again to discuss the crisis once more, under the auspices of the French Presidency of the Council. I of course hope, as always, that we, Russia, China, the United States and all the members of the Council can settle our differences and agree steps to advance the political solution that Syria so desperately needs.
"But the people of Syria cannot wait indefinitely. People are dying and are often trapped without food and shelter. They are at the mercy of a regime that is hunting down its opponents, an army that has turned its weapons against civilians, and militias that are committing barbaric crimes.
"The Syrian people need urgent help, and today we are greatly increasing what we will do to support them.
"We have already trained over 60 Syrian activists to document human rights violations and abuses and provided support for 100 Syrian citizen journalists.
"The Secretary of State for International Development, Andrew Mitchell, has announced the quadrupling of British aid for Syrian refugees, making the United Kingdom the second largest bilateral humanitarian donor in the world to Syria. We are also helping to feed 80,000 Syrians displaced internally per month.
"Both he and I have recently travelled to Jordan to meet some of those displaced. We have seen for ourselves the scale of the need and we've heard the horrific stories of survivors.
"So now, in the absence of diplomatic progress, the United Kingdom will do much more. We will expand our support to the Syrian people and the Syrian political opposition, with an extra £5 million in non-lethal practical assistance. This will help protect unarmed opposition groups, human rights activists and civilians from some of the worst of the violence. This is in addition to and separate from our humanitarian assistance.
"We expect that our assistance will include trauma and medical supplies for civilians in areas under regime control, and could include items such as paramedic trauma kits, specialist trauma treatment for surgical equipment, field dressings, antibiotics, painkillers, and water purification kits to respond to the cutting of fresh water supplies.
"I have agreed in principle that our assistance to the opposition will include communications equipment, to help political activists overcome the regime's communications blockade and ensure their message gets to the outside world. I cannot say anything, of course, that could risk identifying these people to the regime or reveal the precise nature of all of that assistance. But our help is likely to include, for instance, mobile phones, satellite phones and radio equipment which can be used to warn civilians of impending regime assaults.
"We will help build local capacity among Syrian doctors to collect forensic evidence of torture that can be used in future trials. We will provide more training to support the documentation by Syrian activists of human rights violations and abuses, and to support steps to help Syrian opposition groups to uphold human rights.
"I have also agreed in principle that our assistance should include life saving protective equipment for civilians to help those carrying out vital work in the crossfire and this could for instance include body armour.
"Our assistance does not include lethal assistance to the armed opposition, and we will of course be careful to whom we provide the practical help that I have mentioned.
"All the support we provide will be consistent with our laws and values.
"It will be based on rigorous analysis and risk assessment, ensuring that we meet our stringent domestic and international obligations.
"But this is assistance that will help save lives, not abandon all Syrians to the mercy of the regime.
"It will help people caught up in a terrible conflict.
"It will be delivered in coordination with other countries.
"It is the right thing to do, while not pausing for a second in our efforts to secure the united, robust diplomatic action which this crisis demands."
Published 10 August 2012