Foreign Secretary statement on Southern Sudan Referendum
Foreign Secretary William Hague welcomes preliminary results.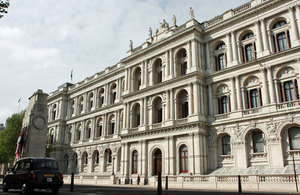 In a statement, the Foreign Secretary said:
"I welcome the announcement of the preliminary results of the Southern Sudan Referendum on 30 January. The Southern Sudanese have made clear in overwhelming numbers their desire for secession and the establishment of Southern Sudan as a new nation. The many observer missions on the ground have confirmed that this vote has taken place in a credible manner
"I congratulate the people of Southern Sudan, Sudan's leaders and the Referendum Bureau and Commission on the successful process. I look forward to final confirmation of the result shortly
"There remains a huge amount for the Sudanese parties to do before the conclusion of the Comprehensive Peace Agreement, and independence of Southern Sudan, on 9 July 2011. The UK will continue to support efforts to resolve the outstanding issues and we will provide ongoing assistance to both Northern and Southern Sudan to support lasting peace and development for all of the Sudanese people".
Published 30 January 2011