Foreign Secretary statement on preventing sexual violence in conflict
The Foreign Secretary has commented following a meeting with organisations in Sarajevo who support victims of sexual violence in conflict.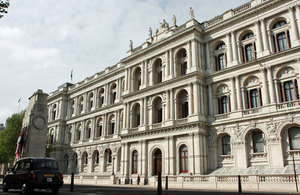 The Foreign Secretary said:
"I've just been talking to brave men and women who endured appalling sexual violence during the war in Bosnia, and to the organisations that support them here in Sarajevo.
I've heard some very harrowing accounts of their experiences during their war, and the challenges they still face today. Many are still fighting for justice and compensation and have trouble obtaining the social and psychological support they need. Their courage has made a great impression on me today and I am deeply grateful to them.
It is shocking that rape is used as a weapon of war in warzones around the world, to humiliate, to terrorise, and to destroy whole communities. Today, there are appalling reports of rape and sexual violence in Syria's conflict. But far too few people have ever been held accountable for these crimes, including here in Bosnia.
We believe in Britain that the time has come for a major international effort to challenge the use of rape and sexual violence as a weapon of war, and to shatter impunity for it.
Five months ago I launched a new UK Initiative on Preventing Sexual Violence in conflict. We chose to launch it at a special screening of 'In the Land of Blood and Honey', because Director Angelina Jolie's film is a very powerful reminder of the horrors people endured in this country.
First, we are setting up a team of experts that will be deployed to conflict areas to help investigate sexual violence in conflict. It will include police, lawyers, psychologists, doctors, forensic experts, experts in gender-based violence and in the care and protection of survivors and witnesses. It will support UN investigations, and to help other countries develop their own capabilities. We have already recruited 65 members of the team, and their first trial deployment will take place before the end of this year.
Second, we are giving £1 million over the next three years to support the UN Secretary General's Special Representative on Sexual Violence.
And third, when the UK takes on the Presidency of the G8 group of advanced economies next January, we will seek new commitments from some of the world's most powerful nations, such as a new International Protocol on Investigation, Prosecution and the Protection of Survivors of Sexual Violence, and new G8 partnerships with conflict-affected nations.
So this meeting today has been very useful to seek views about these proposals from survivors and experts here in Bosnia.
In the same way that the world came together to abolish the slave trade hundreds of years ago or to ban landmines and cluster munitions in our lifetime, so we must seize a moment to change our world for the better by confronting the use of rape as a weapon of war."
Published 24 October 2012