Foreign Secretary statement on opening of Egyptian Parliament
Foreign Secretary William Hague has spoken about the historic change and opportunity that Egypt has seen in the last year, as the Egyptian Parliament opens.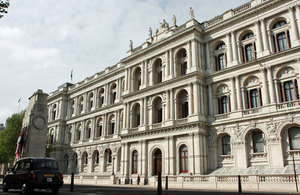 Speaking today the Foreign Secretary said:
"2011 was a year of historic change and opportunity for Egypt. The world was inspired by the courage of the Egyptian people in the revolution which began on 25 January, as they demonstrated for their dignity, their freedom and their rights. What has followed has been a time of great hope and optimism, but also anxiety and uncertainty. Much has been achieved, but challenges remain. The historic elections for the People's Assembly, now almost complete, are an important step in building a prosperous and stable future for the new Egypt.
Britain will continue be a close friend and strong partner to the Egyptian people as they consolidate the country's transition to democracy."
Published 23 January 2012