Foreign Secretary statement on conclusion of Iran talks
Foreign Secretary William Hague calls Iran's refusal to engage with the E3+3 at talks in Istanbul "extremely disappointing".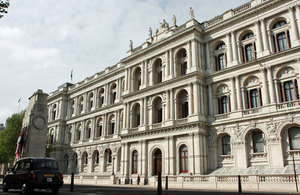 The Foreign Secretary said:
"The E3+3 went to Istanbul united and ready to engage constructively with Iran. As Baroness Ashton has made clear we put forward specific ideas to build confidence and to allow Iran to address international concerns about its nuclear programme. These were set out in detail, and rooted in international law.
Iran's refusal to engage, including its insistence on pre-conditions that were clearly unrealistic, is extremely disappointing. This is the clear and unified conclusion of the E3+3. Until Iran recognises the need to engage meaningfully, the pressure on it will only increase.
The choice is now Iran's. We have made every effort to make progress. We are committed to ensure a diplomatic resolution to our concerns and the door to future talks remains open. But Iran must demonstrate that it is serious about addressing international concerns about the nature of its nuclear programme or face increasing international isolation. It should not doubt our resolve."
Published 22 January 2011