World news story
Foreign Secretary statement for International Women's Day
Foreign Secretary calls for greater international action to tackle sexual violence in conflict.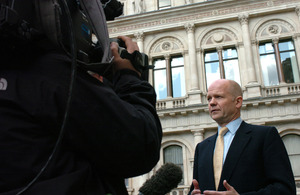 Foreign Secretary William Hague will mark International Women's Day tomorrow with a vow to redouble efforts to tackle the culture of impunity surrounding sexual violence in conflict and ensure survivors' voices can be heard.
The Foreign Secretary's Preventing Sexual Violence Initiative (PSVI), a key foreign affairs priority for the UK's G8 Presidency this year, aims to increase the number of perpetrators facing justice, push for greater international action and help countries improve their efforts to tackle these crimes and support survivors.
The Foreign Secretary said:
International Women's Day is a chance to celebrate women's achievements, but also to highlight where more work needs to be done.
Sexual violence as a weapon of war is not just a crime against women. But the majority of attacks are against women and girls, with hundreds of thousands suffering appalling sexual crimes in conflict zones. It is a sad truth that too often the perpetrators go unpunished.
My pledge during the UK's G8 Presidency year and beyond is to work to end the culture of impunity that exists around these crimes and to galvanise the international community to greater action.
We will use the G8 Foreign Ministers' meeting in April to push for a clear political statement of our collective determination to make real, tangible progress on combating the use of sexual violence in conflict.
And we are taking other practical steps with our Team of Experts who will this year work with civil society and international organisations in their efforts supporting survivors and gathering evidence to help bring criminals to justice.
The UK's 73-strong specialist Team of Experts includes police, lawyers, psychologists, doctors, forensic experts, gender-based violence experts and experts in the care and protection of survivors and witnesses.
The first deployment took place at the end of 2012 to assist Syrian refugees by training local health professionals in how to respond to reports of sexual violence. This makes a real difference to survivors ensuring that they receive support and medical assistance and works towards ensuring that any evidence of sexual violence is gathered in a way that it can be used effectively in future potential prosecutions.
We will also send a follow up deployment to the Syrian borders and deploy to Mali, Libya, Bosnia-Herzegovina, South Sudan and the Democratic Republic of Congo.
The FCO's network of missions worldwide are supporting this work by raising awareness of PSVI and working to secure political support.
The FCO's International Women's Day activity includes:
the British Embassy in Rome will be staging a projection onto the Coliseum on 8 March to raise awareness of the problem of sexual violence in conflict
the British Embassy in Beirut is hosting an event to highlight the problem of sexual violence in Syria
International Development Minister and the Government's Champion for Tacking Violence Against Women Overseas Lynne Featherstone is hosting a high profile PSVI event in New York as part of the annual UN Commission for the Status of Women
in London, the FCO is holding a PSVI event, aimed to raise awareness among London-based diplomats from around the world. A member of the UK Team of Experts will talk about her experiences as an activist on sexual violence issues
a range of Ambassadors across our world-wide blogging network will be writing about PSVI to raise awareness as part of International Women's Day
@FCOHumanRights will be tweeting about other activity around the FCO network using #timetoact and #sexualviolence
the UK Government has developed a mini-site to highlight our work on women's rights/issues on International Women's Day
Published 7 March 2013