Foreign Secretary statement following UN Security Council's resolution vote on Libya
Foreign Secretary William Hague: "Today's votes show the international community's recognition of and confidence in the new Libyan authorities."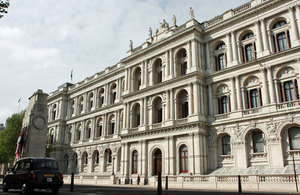 Speaking today Foreign Secretary William Hague said:
"I strongly welcome the UN Security Council's unanimous adoption of Resolution 2009 and the UN General Assembly's vote to allow the National Transitional Council to take Libya's seat at the UN. Both these votes make clear the international community's determination to support the new Libyan authorities, and the Libyan people, as they make progress in re-establishing stability and embrace a free future - progress which the Prime Minister and I saw for ourselves earlier this week on the streets of Tripoli and Benghazi.
This historic resolution mandates a UN mission to support them in those efforts, including preparing for elections and protecting human rights. The provisions for unfreezing assets, leading to the progressive release of around £12 billion from the UK, will help Libya in building a more prosperous and stable future. As the NTC has called for, the resolution maintains the no fly zone and action to protect civilians, which will remain in place as long as they are considered necessary. Today's votes show the international community's recognition of and confidence in the new Libyan authorities. We will continue to work with them closely as they build a better future for Libya."
Published 16 September 2011