Foreign Secretary speech on Britain's values in a networked world
Today's speech will be the third of four speeches by the Foreign Secretary William Hague on the Coalition Government's foreign policy.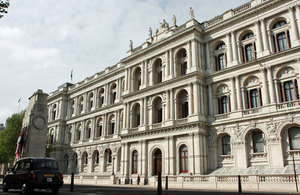 The Foreign Secretary will say that it is not in our character as a nation to have a foreign policy without a conscience, and neither is it in our interests. He will emphasise that there will be no downgrading of human rights under this Government and no resiling from its commitments to aid and development.
The Foreign Secretary will announce that the Foreign Office is to set up an outside advisory group on human rights. And that the FCO will maintain and improve its work to document and publicise human rights abuses annually.
He will say: "It is not in our character as a nation to have a foreign policy without a conscience, and neither is it in our interests."
"We cannot achieve long term security and prosperity unless we uphold our values. Where human rights abuses go unchecked our security suffers. And our international influence will bleed away unless we maintain our international standing and cultural influence."
Published 15 September 2010