Foreign Secretary speaks to South Korean Foreign Minister
Foreign Secretary William Hague discussed North Korea with South Korean Foreign Minister Kim Sung-hwan on 23 December.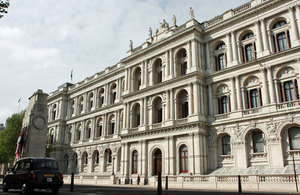 The Foreign Secretary assured him that the UK was following the situation in North Korea closely and that the UK is committed to peace and security on the Korean peninsula.
In a statement following the death of Kim Jong Il the Foreign Secretary said there could be a positive opportunity for North Korea, and the UK was urging the new regime in DPRK to take the steps necessary to resume the Six Party Talks and to improve the lives of their people.
Published 23 December 2011