Foreign Secretary speaks about key issues at the UN
In his latest video blog Foreign Secretary William Hague describes the progress achieved during this year's UN General Assembly Ministerial Week.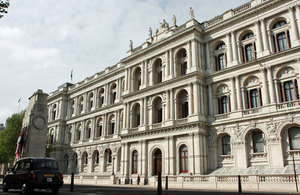 The Foreign Secretary spoke about the Palestinian Authority's request for Statehood:
"It is important to understand there will not be an immediate vote. What we are working on…is how to get the Israelis and Palestinians back into negotiations. Whatever resolutions we pass at the UN, it is only through a negotiated settlement that we get a viable Palestinian state…alongside a secure Israel.
Referring to the G8 Foreign Ministers meeting on North Africa, he said:
"We discussed ways in which we can work more closely with the countries of North Africa, helping their economies and political institutions to open up, so that we can reinforce the cooperation and relationship between European countries and North Africa."
He said that the UK was working on a new UN Security Council resolution on Syria to increase the pressure on the Assad regime to stop the unacceptable violence against the Syrian people.
The Foreign Secretary also talked about his important meetings on Nuclear Safety, Somalia and the Commonwealth.
Published 24 September 2011