Press release
Foreign Secretary says Russia must engage in dialogue over Ukraine
Foreign Secretary regrets the fact Russia has refused to change course on Crimea and says door is still open for diplomacy and dialogue.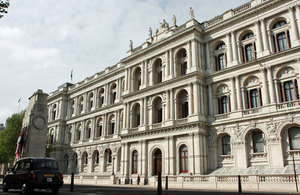 Commenting on the US-Russia talks in London today, Foreign Secretary William Hague said:
It is deeply disappointing that today's talks did not produce the diplomatic breakthrough which Secretary Kerry worked tirelessly to achieve and which it was in Russia's power to ensure. I regret the fact that Russia has refused to take this opportunity to change course, and is pressing ahead with plans to support an illegal, unconstitutional and illegitimate referendum in Crimea on Sunday.

The United Kingdom is strongly of the view that there must be a firm and united response from the European Union at the meeting of the Foreign Affairs Council on Monday, and that the time has come for tougher restrictive measures to be adopted as previously agreed by EU nations. The door remains open for diplomacy and dialogue and we urge the Russian government to take action to lower tensions and enter into direct talks with the Ukrainian government. But we are clear that the flagrant violation of the sovereignty and territorial integrity of Ukraine cannot go unchallenged, and we stand with the Ukrainian people in their right to choose their future free of intimidation and interference.
EU foreign ministers will meet on Monday in Brussels to discuss the next steps, including the case for further sanctions.
Further information
Read the latest updates on the government's response to the situation in Ukraine
Follow the Foreign Secretary on twitter @WilliamJHague
Follow the Foreign Office on twitter @foreignoffice
Follow the Foreign Office on facebook and Google+
Published 14 March 2014