Foreign Secretary responds to questions on business with South East Asia
Foreign Secretary William Hague took part in a LinkedIn discussion about UK trade with South East Asia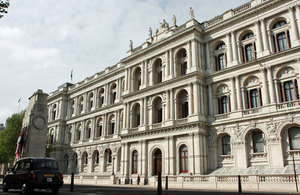 Ahead of his visit to Vietnam, Singapore and Brunei on 25 - 27 April, Foreign Secretary William Hague invited views from British business on potential opportunities and barriers to trade with South East Asia:
How can we develop our trade relations further? Are there obstacles to growth facing your business? Are UK businesses missing out on opportunities in the region?
In response to the feedback received from LinkedIn users, the Foreign Secretary gave his views on the outcomes of the visit and the issues raised in the discussion:
Thank you for your comments and questions. One of the aims for my visit to Vietnam, Singapore and Brunei last week was to hear firsthand from the business community - both UK and local - about ways we can develop and intensify our trade relations. Your feedback was a useful addition to this. I would like to share with you the key messages I took away with me from the visit, and address some of the points you have raised.

My overwhelming impression was of a region that is fast becoming a global hub for trade and an engine of future global growth. With a rapidly expanding middle class and rising purchasing power the region will create a potentially huge market for the kinds of goods and services which Britain excels at, from advanced manufacturing to finance and education.

Some of you have expressed concern about the UK being overtaken by other countries as we seek to develop relationships and markets in this region. The overriding aim of my visit - following on from the visit by the Prime Minister two weeks previously - was to show that Britain is looking East as never before.

We are expanding and intensifying our economic and political connections, with up to eight new British diplomatic posts in Asia and a further 140 staff in our network across China, India and the rest of Asia by 2015.

This renewed commitment to engagement was warmly welcomed by my hosts and counterparts amongst ASEAN Ministers. We are one of the few Western countries that are expanding their diplomatic networks in a time of economic crisis. From my meetings there was clear recognition at the highest levels that Britain means business.

I was interested to read some of your comments about perceptions of the UK in South East Asia. From the many conversations I had at all levels, from Ministers to students, there was an appreciation of the shared values and outlook that make Britain a natural partner for countries in this region: openness to ideas, enterprise and innovation; and an ability to work co-operatively with other states.

Across the board in international organisations the UK champions free global and open markets alongside strong global financial institutions. The UK is also the most open economy in the whole of Europe, and we are taking steps to make our tax system the most competitive in the G20. Those countries in the region that choose to look to Britain will find a willing, active and serious partner for the 21st century.

However, we cannot afford to be complacent, or rely on our historic ties or assumptions about our offer in this marketplace. This is why we have set ourselves ambitious targets to increase and in some cases to double our bilateral trade with countries in the region within the next five years, as part of a target to double British exports to £1 trillion a year by 2020.

There is a lot of work to be done if we are to achieve these goals, and the support that the FCO and UKTI provide to UK businesses through our Embassies and other missions overseas will be crucial to success.

I am pleased that many of you have commented on the support you have received from Trade Missions and the Overseas Market Introduction Service, but I recognise that there is still much that can be done to ensure that every British business seeking to export gets the best possible introduction to new markets, whether in Asia or elsewhere. I would encourage you to contact UKTI if you wish to raise a specific issue about your experiences in a particular country. You can also make use of our Overseas Business Risk service which provides a wealth of information on potential risks firms may face overseas.

Thank you again for your input. Your continuing feedback to UKTI and the Foreign Office will help shape the way we work together with business to deliver growth for the UK.
You can read more here about the Foreign Secretary's visit to Vietnam, Singapore and Brunei.
Published 4 May 2012