News story
Foreign Secretary regrets departure of Palestinian Prime Minister
Foreign Secretary praises the contribution of Dr Salam Fayyad and urges a return to negotiations on a two-state solution.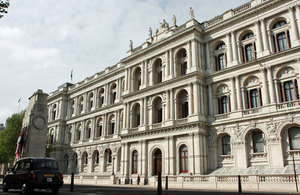 Speaking on Sunday 14 April, Foreign Secretary William Hague said:
"I regret to hear that Dr Salam Fayyad has resigned as Palestinian Prime Minister. Dr Fayyad has made an outstanding contribution to Palestinian state-building, as Finance Minister then as Prime Minister. He has been a close partner to successive British Governments.
"Thanks to his dedication and energy, the Palestinian Authority has taken great strides forward in building the institutions necessary for a Palestinian state. Palestinian institutions are now stronger and more transparent. Despite serious economic constraints, the World Bank, IMF and UN last year all said that the Palestinian Authority has the capacity to be a functioning state in important sectors.
"This development is a reminder of the urgency of returning to negotiations on a two-state solution. We need to see a clear path leading to a viable, independent Palestinian state, based on 1967 borders with agreed land swaps, living in peace and security with Israel. And the vital work of Palestinian state-building must go on. 2013 is a crucial year for Middle East peace. We will continue to work with President Abbas, Prime Minister Netanyahu and with our US and EU partners, to urge the necessary progress."
Published 14 April 2013