World news story
Foreign Secretary Philip Hammond MP visits Portugal
This was published under the 2010 to 2015 Conservative and Liberal Democrat coalition government
The RT Hon Philip Hammond MP, Secretary of State for Foreign & Commonwealth Affairs, visited Portugal on 18 February 2015.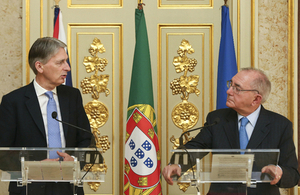 The British Foreign Secretary, Philip Hammond MP, visited Lisbon on 18 February for talks with his counterpart, Minister Rui Machete, about reform of the European Union and the major challenges facing Portugal and UK in the current international context.
At the joint press conference, Philip Hammond enhanced the 'oldest alliance' between two countries that shared an outward looking, Atlantic focussed, view of the world; and his wish that UK and Portugal would continue to work together in the future as strong drivers of positive EU reform, aimed at keeping the EU competitive, relevant and able to grow, in the challenging global 21st century economic environment. He emphasised that this was not an agenda of special treatment for the UK, but an agenda of EU reform for the benefit of all 28 nations and their citizens, to make the EU more efficient, more democratically accountable, and a driver of economic growth and competitiveness.
This was important so that Europe could remain one of the great economies of the world in the face of the challenge from the rising nations of Asia. More widely, both Ministers expressed shared concern about the latest developments in the Russia/Ukraine crisis and the need for EU to remain united, and a shared commitment to combating Islamic radicalisation and international terrorism, in particular through the international coalition against ISIL in Iraq and Syria.
Document information
Published: 20 February 2015