Foreign Secretary: our actions are saving lives in Libya
Foreign Secretary William Hague said today that 'forces that continue to take part in Gaddafi's war against his own people will continue to face the military force of the coalition'.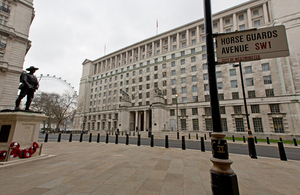 In his statement to the House of Commons updating on the situation, the Foreign Secretary said:
We continue to take robust action to implement UN Security Council Resolution 1973 which authorised military action to put in place a no-fly zone to prevent air attacks on Libyan people, and to take all necessary measures to stop attacks on civilians while ruling out an occupation force.

The case for this action remains utterly compelling. Appalling violence against Libyan citizens continues to take place, exposing the regime's claims to have ordered a ceasefire to be an utter sham.

Misurata has been under siege for days by regime ground forces, although coalition air strikes are helping to relieve the pressure on its citizens, many of whom have been trapped in their homes without electricity or communications, with dwindling supplies of food and water and facing sniper fire if they venture into the streets, while the local hospital is swamped with casualties.

Ajdabiya continues to be under attack, with reports of civilian deaths from tank shells. This underlines the appalling danger its inhabitants would be in without coalition action, as do continued threats by Gaddafi forces to 'massacre' residents in areas under bombardment.

Mr Speaker there is universal condemnation of what the Libyan regime is doing from the United Nations, the Arab League, the African Union and from Europe. The regime's actions strengthen our resolve to continue our current operations and our support for the work of the International Criminal Court.

Our action is saving lives and is protecting hundreds of thousands of civilians in Benghazi and Misurata from the fate that otherwise awaited them. That is what UN Security Council Resolution 1973 was for and that is why we are implementing it.

We are taking the utmost care to minimise the risk of civilian casualties. The only forces acting indiscriminately or deliberately inflicting casualties are the forces of the Gaddafi regime.

UK forces have undertaken a total of 59 aerial missions over Libya in addition to air and missile strikes. Last night, our forces again participated in a co-ordinated strike against Libyan air defence systems.

A no-fly zone has now been established and the regime's integrated air defence system has been comprehensively degraded. There are no Libyan military aircraft flying.

Over 150 coalition planes have been involved in military operations, including Typhoon and Tornado aircraft from the Royal Air Force. 13 nations have currently deployed aircraft to the region.

A number of additional nations have made offers of aircraft and other military support which are in the process of being agreed. Royal Navy vessels are in the region supporting the arms embargo.

These coalition operations are currently under United States command. But we want them to transition to NATO command and control as quickly as possible. NATO has already launched its operation to enforce the arms embargo. Its planning is complete for the no-fly zone.

And we are making progress in NATO taking on all measures under Resolution 1973 needed to protect civilians from Gaddafi's attacks. We need agreement to unified command and control for it to be robust, and we expect to get that agreement soon.

Resolution 1973 lays out very clear conditions that must be met, including an immediate ceasefire, a halt to all attacks on civilians, and full humanitarian access to those in need. We will continue our efforts until these conditions are fulfilled. The Libyan regime will be judged by its actions not its words.

Our message to the Gaddafi regime is that the international community will not stand by and watch them kill civilians, a view this House overwhelmingly endorsed this week.

To his forces we say that if they continue to take part in Gaddafi's war against his own people, they will continue to face the military force of the coalition, and if they commit crimes against Libyan people they will be held to account.

Mr Speaker I announced yesterday that Britain will host an international conference next Tuesday to take forward the implementation of UN Security Council Resolution 1973.

We are inviting NATO allies, key international organisations including the UN, the Arab League and the African Union and many Arab nations.

We continue to engage in intensive diplomatic activity to increase the multilateral pressure on the Libyan regime. Further UN and EU sanctions have been agreed targeting Gaddafi and his associates, and against those Libyan organisations responsible for funding his regime.

As of today the European Union has designated the National Oil Corporation of Libya, cutting the regime off from any future oil revenues.

We are gravely concerned for the well-being of up to 80,000 internally displaced persons. The Secretary of State for International Development is in close communication with his counterparts in international organisations about immediate and longer-term humanitarian support to the Libyan people.

Mr Speaker, it is not for us to choose the government of Libya - that is for the Libyan people themselves. But they have a far greater chance of making that choice now than seemed likely on Saturday, when the opposition forces were on the verge of defeat and the lives of so many were in danger.

We continue to deepen our contacts with the Libyan opposition, including the Interim Transitional National Council [ITNC] based in Benghazi. I spoke to Mahmoud Jabril, Special Envoy of the Council, on Tuesday to discuss the situation on the ground and to invite him to visit London.

In the words of the Arab League resolution, the current regime has completely lost its legitimacy. We call on all those, including the ITNC, who believe that Colonel Gaddafi has led the people of Libya into an impasse, to begin to organise a transition process.

In Syria there are reports of many deaths and the use of live rounds after security forces cleared a mosque in Deraa. We call on the Government of Syria to respect their people's right to peaceful protest and to take action about their legitimate grievances.

We also call for utmost restraint on all sides, including by the Syrian security forces, during the further protests in Syria that have been called for tomorrow.

In Bahrain, we support a process of dialogue leading to political reform that can address the legitimate aspirations of all the people of Bahrain, and I urge all parties to join without preconditions the proposed national dialogue.

In Yemen, a state of emergency has been declared by the Government and a 'Day of Marches' is planned in Sana'a tomorrow. There has been looting and disorder in that city and other cities, and over 50 protesters died in Sana'a last Friday. We call even now on the opposition and the government to engage in dialogue.

There are still some British nationals who have chosen to remain in Yemen. Since October last year we have been unable to provide consular assistance in Yemen because of the significant terrorist threat. There are many parts of Yemen that the Ambassador and his staff are unable to reach.

In light of the rapidly deteriorating security situation and the protests tomorrow I have temporarily withdrawn part of the British Embassy team in Sana'a, leaving a small core of staff in place.

Commercial flights to and from Yemen are still operating, although this could clearly change. Should there be further violence in Yemen, normal means of leaving, particularly through the commercial airport in Sana'a, could be blocked, and the ability to travel around Yemen will be severely restricted.

On 12 March we advised all British nationals to leave Yemen as soon as they could. Since the situation has deteriorated further since then, I want to make absolutely clear today that all British nationals remaining in Yemen should leave without delay.

Mr Speaker, the United Kingdom believes that the people of all these countries must be able to determine their own futures.

That is why in all of them we argue for reform not repression, and why in Libya, supported by the full authority of the United Nations, we have acted to save many lives threatened by one of the most repressive regimes of them all. This will continue to be our approach as change continues to gather pace in the Middle East.
Published 24 March 2011