Foreign Secretary opens new British Embassy in Laos
Foreign Secretary William Hague is "delighted to open the new British Embassy in Vientiane after an absence of 27 years".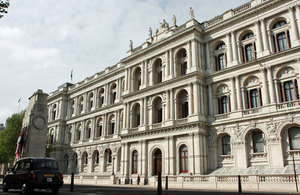 Making the first ever visit to Laos by a British Foreign Secretary, William Hague said:
"I am delighted to open the new British Embassy in Vientiane after an absence of 27 years.
"This step reflects our desire to forge a deep and lasting relationship with the Lao People's Democratic Republic, and our Government's determination to build stronger relationships in Association of Southeast Asian Nations (ASEAN).
"The UK is now one of only three European countries to have an Embassy in every one of the 10 nations of ASEAN.
"ASEAN countries are at the centre of Asia's rise. They represent 600 million people; absorb more UK exports than mainland China or India; and are predicted to be the world's fourth-largest single market by 2030.
"Laos itself had rapid growth of 8% last year, and will be chairing the ASEAN in 2016 immediately after it becomes a single market in 2015. This is therefore an excellent moment to be opening an Embassy and starting a new era in our relations."
The Foreign Secretary's trip to South East Asia follows the Prime Minister's visit to the region in April, and 26 other ministerial visits in 2012. UK trade exports to ASEAN countries have increased by around 40% since 2009, and UK exports to Laos grew by 142% last year.
While in Vientiane the Foreign Secretary will also represent the UK at the Asia-Europe Summit. He will call for vigorous engagement in Asia by the European Union as a whole, particularly in championing free trade agreements, lowering barriers to trade, and forging closer cooperation in the areas of security and disaster preparedness.
Published 5 November 2012