Foreign Secretary on situation in Egypt
Foreign Secretary William Hague expressed his deep concern about the ongoing violence in Egypt and emphasised the need for peaceful reform.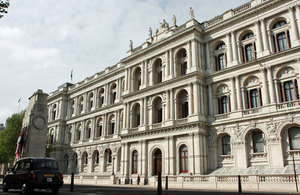 The Foreign Secretary said that the welfare of British Nationals in Egypt remained his top priority, and that he had deployed additional FCO staff to Egypt to support the Embassy in providing consular assistance. The Foreign Secretary said:
"We've given very clear travel advice and we keep it under continual review."
The Foreign Office currently advises against all but essential travel to Cairo, Alexandria, Luxor and Suez, and recommends that British nationals without a pressing need to be in Cairo, Alexandria or Suez leave by commercial means, where it is safe to do so.
The Foreign Secretary said, "the great majority of Britons who are in Egypt are, of course, in the Red Sea resorts like Sharm-el-Sheikh. At the moment those have been calm. Our Honorary Consul is there and the travel operators say that things are working fairly normally in those places but we do keep our travel advice under very careful and constant review and so we will change it if we feel it's necessary to do so".
The latest travel advice for Egypt includes a telephone number which is staffed 24 hours a day.
Commenting on the political situation, the Foreign Secretary urged Egypt's leaders, "to embark on peaceful reform and demonstrate to their people and others across the world that they are genuinely prepared to do that".
He said that peaceful reform, "requires the Egyptian people to express their aspirations in a peaceful way" and expressed hope that reform would lead to "a more broadly based Government, and the inclusion of opposition figures". He said that the UK was, "in favour of greater freedom and democracy, of a more open and flexible political system, and of serious economic developments".
The Foreign Secretary also called for the Egyptian Government to respect, "freedom of expression" and said it was a mistake to close down the Internet.
The Foreign Secretary will continue to make this position clear when he speaks to the Egyptian Foreign Minister later this evening. The British Government continues to work actively with international partners to respond to events in Egypt. Earlier today the Foreign Secretary discussed developments with US Secretary of State Hillary Clinton and yesterday he spoke to EU High Representative Baroness Ashton.
European Foreign Ministers will meet in Brussels on Monday to discuss the situation.
Prime Minister David Cameron has spoken to President Mubarak. Along with the leaders of France and Germany he has publicly called on the President to display moderation and avoid the use of violence against protesters. They also asked that respect be shown for human rights and democratic freedoms and called for the holding of free and fair elections.
Published 30 January 2011