Foreign Secretary on protests in Egypt
Foreign Secretary William Hague expressed concern at the violence surrounding today's protests, calling for all involved to refrain from violence.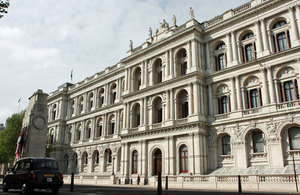 Speaking today, the Foreign Secretary said:
"It's important to recognise that the people involved do have legitimate grievances, economic grievances and political grievances, and it's very important for the authorities to respond positively to that and to be able to hold out the hope and prospect of reform in the future. That is the answer to these situations rather than repression"
The Foreign Secretary emphasized that it is "very important to have a more open and democratic system, to have a viable opposition in Egypt" and "they needed to move in the direction of political reform."
Commenting on the wider region, he noted that while it was important to recognise difference between the situation in countries across the Middle East, there "is a message coming through from many countries in the region that they do want to see the possibility of improved living standards, of more open political systems and that is a case worth making to all of the leaders of the regions".
Speaking on Wednesday the Foreign Secretary said:
"We deeply regret the loss of life in the Egyptian protests. All parties should show restraint and avoid violence. It is important that the government listens to the concerns of those demonstrating and respects rights of freedom of assembly and expression. Openness, transparency and political freedom are important tenets of stability. We urge the government and demonstrators to seek a peaceful way forward.
We have updated our travel advice for Egypt to reflect recent developments. This advises people to avoid political gatherings and demonstrations. We will be keeping the advice under constant review."
Published 28 January 2011