World news story
Foreign Secretary on policy towards Iran with new President Dr Rouhani
Foreign Secretary William Hague response to urgent question on government policy towards Iran in light of new President, Dr Hassan Rouhani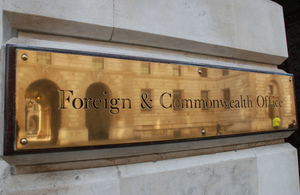 Responding to a question in the House of Commons on Government policy towards Iran in the light of the election of Dr Hassan Rouhani as Iran's new president on June 17, 2013 Foreign secretary William Hague said:
Mr Speaker, I congratulate the people of Iran on their participation in Friday's elections and Dr Rouhani on the result. He made some positive remarks during his election campaign about the need to improve economic and political conditions for the Iranian people and to resolve the nuclear issue. The Iranian people will no doubt look to their new President to make good on these promises.
The United Kingdom's policy on Iran has been consistent under this Government and the last. We share international concern, documented by the International Atomic Energy Agency, that Iran's nuclear programme is not for purely peaceful purposes. We deplore Iran's failure to cooperate fully with the IAEA, to uphold its responsibilities under the Nuclear Non Proliferation Treaty and to meet the demands placed on it by UN Security Council Resolutions.
The Government hopes that following Dr Rouhani's election Iran will take up the opportunity of a new relationship with the international community, by making every effort to reach a negotiated settlement on the nuclear issue. If Iran is prepared to make that choice, we are ready to respond in good faith. Our commitment to a peaceful diplomatic settlement of this dispute is sincere.
I urge Iran to engage seriously with the E3+3 and urgently to take concrete steps to address international concerns. Iran should not doubt our resolve to prevent nuclear proliferation in the Middle East, and to increase the pressure through international sanctions should its leaders choose not to take this path.
Further Information
Follow the Foreign Office on twitter @foreignoffice
Follow the Foreign Office on facebook and Google+
Visit the UK for Iranians web pages
Subscribe to the announcements feed or email alerts to get our latest news and announcements.
Published 18 June 2013