Foreign Secretary on Libya
Foreign Secretary William Hague said that the UK is "taking every action to get the remaining British nationals in Libya out of harm's way".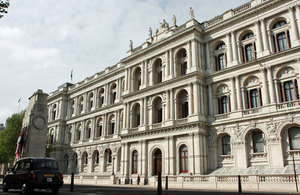 In a statement the Foreign Secretary said that the safety of British nationals in Libya remains "our top priority":
"The safety of British nationals in Libya remains our top priority. As we announced earlier, a charter flight is this afternoon leaving Gatwick airport for Tripoli to bring British nationals home from Libya. Another such flight is planned to depart later this evening. A third flight will leave early tomorrow morning if it is needed. We will send as many planes as are necessary to bring home British nationals. In addition, HMS Cumberland will arrive off Libyan waters tonight.
Over the past week hundreds of British nationals have been able to leave Libya on scheduled flights, many of them assisted by the Foreign Office. However, there are we think at least 300 remaining in the Tripoli area, and some expected scheduled flights have not materialised. So we decided to send these charter flights as rapidly as possible.
We are one of very few countries to have sent rapid deployment teams, three in total to Libya, so that we have a robust specialist presence on the ground which will be strengthened further tonight. We also have deployed staff to Libya's border with Tunisia to assist those who have made their way to the border. We have a team of at least 50 dedicated staff at the Foreign Office working night and day taking calls from British citizens and implementing our emergency plans.
Our preference clearly is for people to be able to leave either on commercial flights as they have been doing, or on our specially arranged charter flights as they will now be able to do, rather than to send in military flights without permission which is obviously riskier to the safety of all those involved. Although we don't by any means rule out doing that.
No one can fail to be deeply concerned about the plight of as many as 170 British nationals in the desert, the vast majority of who work for oil companies in desert camps alongside the nationals of many other countries. These camps are remote and isolated they are scattered over a large distance, and are dependent for food and water on supplies from Libyan cities that have been severely disrupted by the violence and unrest. Some we know have been subjected to attacks and looting.
They are in a perilous and frightening situation. We are working intensively on a range of options to secure their safe passage from Libya, working with other countries whose nationals are in the same position. We have made every effort to contact them and their employers to provide what advice and assistance we can. Such efforts have been hampered by extensive disruption to Libyan telecommunications systems since over the last few days.
This is an important message for the those individuals : if you have not yet made contact with us you must try to do so. You should contact us on the Foreign Office hotline. That number is 020 7008 0000.
Any companies employing British nationals in Libya who have not yet made contact with us should do so, on the same number.
Every country we have spoken to with nationals in these desert camps is in a similar situation. All of us are exploring every avenue to assist our nationals. All of us are conscious that the situation in Libya is very different from that we faced in Tunisia or Egypt over the last few weeks. In those countries there were large protests chiefly in urban areas. In Libya what is happening is civil strife: a country split geographically in two, split between Government and people, and with widespread breakdown of law and order.
So we are taking every action to get the remaining British nationals in Libya out of harm's way.
We are greatly concerned about the loss of life in Libya and their government's failure to protect its own people. Indeed their behaviour of government launching attacks on own people.
We succeeded yesterday in securing a statement of the UN Security Council, and in achieving a special meeting of the UN Human Rights Council this Friday.
We believe that those who commit or sanction crimes or human rights abuses in Libya should be held to account. That is our clear message and warning to them in the future.
To those in Libya who may be guilty of such acts, that Britain and our partners around the world will be doing everything to hold them to account in future. This will be a major focus of Britain's diplomacy in the coming days."
Published 23 February 2011