Foreign Secretary on EU Sanctions on Iran
Foreign Secretary William Hague has made a statement following the decision to place sanctions on Iran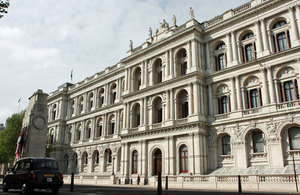 Speaking after the EU Foreign Affairs Council, the Foreign Secretary said:
"I welcome the decision taken by the EU today to put in place an unprecedented package of sanctions on Iran. This demonstrates the strength and unity of our concern about the Iranian Government's nuclear programme. Iran's ongoing refusal to engage constructively on this issue leaves us no option but to implement these sanctions.
The message to the Iranian Government could not be clearer: the longer it refuses to talk to the E3+3 about its nuclear programme, the greater the pressure and isolation Iran will bring upon itself. But Iran does have a choice: the UK and the international community stand ready to engage, and still believe that the way forward on this issue is multilateral negotiation.
Iran is a country with a young, well-educated and creative population and rich resources. It is a country with the potential for success and prosperity, and of being an influential voice in the international community. We stand ready to respond to Iran choosing to discuss its nuclear programme and grasping the successful future such a choice would bring."
Published 26 July 2010