Foreign Secretary on Afghanistan
Speaking about the new Government's foreign policy, the Foreign Secretary has also spoken about the UK's continuing involvement in Afghanistan.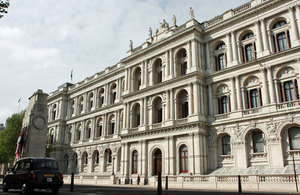 Speaking on BBC Radio 4's Today programme this morning, the Foreign Secretary spoke about the UK's commitment to Afghanistan, the timeframe surrounding our engagement and the issue of talks with the Taliban.
On the issue of the UK's commitment to Afghanistan, the Foreign Secretary said:
"…we're very committed to making this work, to giving the international strategy in Afghanistan the necessary time and support to succeed. And I think it's very important to bear in mind that the military pressure on the Taliban is going to increase further over the coming months, the so-called surge of United States troops is still going on and the capability of the Afghan national security forces is all the time increasing. In fact, a great deal of what British forces are going to be doing in Afghanistan in the future is partnering with Afghan forces, increasing their capabilities and experiences."
Speaking on the issue of a timetable for the UK's engagement, Mr Hague said:
"…the Prime Minister is only saying what he said before as leader of the opposition. He said before the general election that, of course, in the next Parliament he would hope - anyone would hope - that the British combat troops were coming home. But he's also stressed that's not setting a timetable for what happens over the next few years."
On the issue of talks with the Taliban, Mr Hague explained that:
"This is an Afghan-led process; again, it was agreed by the international partners of Afghanistan in January that there would be a process of reintegration of former Taliban fighters and of reconciliation which would be Afghan-led. And that is the crucial point to remember, that is a process to be led by the Afghan government but based on former Taliban fighters accepting the Afghan constitution, accepting the legitimate government in Afghanistan and renouncing al-Qaeda.
So, yes, there must be a process of reconciliation. I don't think any of us have ever argued that there would be a military solution to the problems of Afghanistan - we've always said there has to be a political process as well."
Published 1 July 2010