Foreign Secretary offers condolences to families affected by Israel forest fire
Royal Air Force to deploy two helicopters from Cyprus to assist.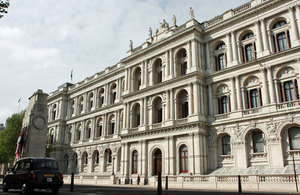 Foreign Secretary William Hague has expressed the condoleneces of the British Government to families affected by the Carmel forest fire in northern Israel.
Speaking today, the Foreign Secretary said:
"The British Government has been saddened by the Carmel Forest fire in northern Israel which has claimed so many lives.
On behalf of the whole Government I send my condolences to those who have lost family members. Our thoughts are with the thousands who have had to leave their homes due to the blaze.
This tragedy is all the more sad as it comes as the Jewish community around the world celebrates Chanukah, a time of hope and joy.
The Prime Minister has instructed the Royal Air Force to deploy two helicopters from Cyprus, and these are now in Israel assisting with the international effort to put out the fires. The UK will continue to do whatever it can to help."
Published 3 December 2010