News story
Foreign Secretary met Ukrainian Foreign Minister
Foreign Secretary William Hague met with Ukrainian Foreign Minister Leonid Kozhara to discuss key bilateral and multilateral issues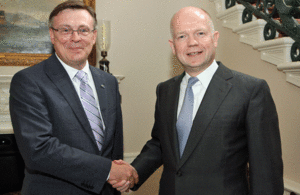 The Ministers issued the following joint statement after their meeting today.
We have had a frank and wide-ranging discussion of key bilateral and multilateral issues. We discussed Ukraine's EU aspirations and the steps Ukraine intends to take for closer integration with the EU.

We agreed that the political association and economic integration of Ukraine with the EU will offer significant opportunities for both the EU and Ukraine, and make an important contribution to the prosperity and security of their citizens. The UK continues to believe strongly that Ukraine belongs to the European family of states. In that context, we talked about how the UK might support Ukraine's reform efforts, in particular how to strengthen Ukraine's judicial and legislative institutions in line with European values and practices. The UK re-affirmed its support for Ukraine's efforts to make the necessary reforms to allow signature of the mutually beneficial EU-Ukraine Association Agreement. We looked forward to working together to make the 3rd Eastern Partnership Summit in Vilnius a success.

We also discussed how the UK and Ukraine might work together more closely to deliver the objectives of the OSCE. The current Ukrainian Chairmanship-in-Office gives us an ideal opportunity to make progress on issues of mutual concern such as the unresolved protracted conflicts within the OSCE's territory.

We agreed to work together to develop further the trade and investment relationship between the UK and Ukraine. We agreed on the importance of a predictable and transparent business climate, essential for continued foreign investment in Ukraine.

We discussed a number of foreign policy areas on which we work closely, and the cooperation we enjoy in areas including peace-keeping, counter-proliferation, and combating trafficking and other cross-border crime.
Further information
Visit the UK in Ukraine website
Follow the Foreign Office on twitter @foreignoffice for all our latest news
Follow the Foreign Secretary on twitter @WilliamJHague
Published 13 May 2013