Foreign Secretary met Sebastian Pinera, President of Chile and his Foreign Minister Alfredo Moreno
The Foreign Secretary welcomed a joint commitment to partner on science and innovation and an agreement between the British Antarctic Survey and Chilean Antarctic Institute to strengthen cooperation on scientific research.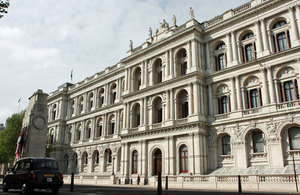 The Foreign Secretary and the Prime Minister met Sebastian Pinera, President of Chile, and Alfredo Moreno, Foreign Minister of Chile yesterday. President Pinera and Foreign Minister Moreno are visiting London as part of a wider European tour. During his visit President Pinera is delivering the acclaimed Canning Lecture 2012, just two years after the Foreign Secretary delivered his own Canning Lecture setting out the UK's ambitious vision for re-engaging with Latin America.
Speaking yesterday, Foreign Secretary William Hague said,
"Chile is one of Britain's oldest friends in Latin America. Our friendship stretches back hundreds of years and continues to go from strength-to-strength. This year has witnessed some exciting developments in our bilateral relationship: in September the City of London hosted Chile Day for the second year running, welcoming Felipe Larrain, Finance Minister of Chile, and a delegation of nearly 300 Chilean businessmen, further cementing trade and investment links between the two countries; the UK has also now topped the charts as the primary destination of choice for Chilean Government sponsored post-graduate students outside Chile; and trade figures for 2011 show UK exports to Chile have broken the £1billion barrier for the first time ever.
"I am delighted that during this visit the Prime Minister and President Pinera have announced our joint commitment to partner on science and innovation next year. This reflects the growing cooperation between our two countries on science and innovation, which is an important pillar in safeguarding the future prosperity of both nations. I am also delighted that during this visit an agreement has been signed between the British Antarctic Survey and Chilean Antarctic Institute to strengthen the countries' cooperation in this important area of scientific research."
Published 16 November 2012