News story
Foreign Secretary meets with Israeli Defence Minister Ehud Barak
Foreign Secretary William Hague and Israeli Defence Minister Ehud Barak discussed the Middle East Peace Process, Iran, and peace and stability in the Middle East.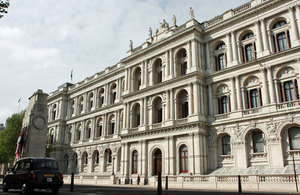 Speaking after the meeting the Foreign Secretary said:
"I had a useful and constructive meeting with Defence Minister Barak today. On the Middle East Peace Process our government sees an urgent need to return to negotiations and to make progress towards a two state solution, and we will work intensively with the US and our EU partners in the coming months to support that goal. The only way to ensure Israel's long term security in the region is through agreeing a comprehensive peace agreement with the Palestinians. In that context, I expressed our serious concern about continued settlement building that threatens the viability of a two state solution.
"I underlined the UK's continued commitment to preventing Iranian nuclear proliferation, and we discussed the latest round of sanctions announced by the EU on 15 October. Iran's leaders face the choice of meeting their international obligations and settling their dispute with the international community, or facing further pressure as sanctions continue to bite. I emphasised the UK's commitment to a peaceful, negotiated solution and to increasing the pressure on Iran to engage."
Published 31 October 2012