Foreign Secretary meets with Deputy Prime Minister of Laos
Foreign Secretary William Hague met Dr Sisoulith, Deputy Prime Minister and Minister of Foreign Affairs of Laos at the EU/ASEAN meeting in Brunei earlier today.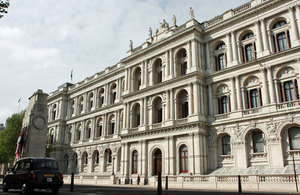 The Ministers discussed the reopening of the British Embassy in Vientiane. The Foreign Secretary stressed this was part of the UK's drive for strong bilateral relations with all members of ASEAN, which will allow both to deepen their engagement on climate change issues, and further our work on unexploded ordnance.
The Ministers also discussed consular issues and prospects for the ASEM Heads of Government Summit which Laos will host in November.
Published 27 April 2012