Foreign Secretary meets US Secretary for Defence to discuss 'common goals'
The Foreign Secretary received US Secretary of Defence Robert Gates at the Foreign and Commonwealth Office on 8 June.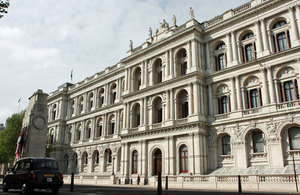 They discussed shared UK and US objectives in Afghanistan and foreign policy challenges including Iran's nuclear programme. The meeting is a further example of the strength of UK-US co-operation on international issues.
The Foreign Secretary said:
'I was delighted to welcome Secretary Gates to the Foreign Office today. We had an excellent discussion on Afghanistan and issues of key importance to both our countries. I look forward to close cooperation with the United States as we work towards our common goals.'
US Secretary of Defence, Robert Gates also met the Prime Minister and Secretary of State for Defence Liam Fox during his UK visit. Speaking to BBC news about his trip to the UK he said:
'We probably don't have a closer military relationship with any country in the world than we have with the United Kingdom. We have a number of co-operative programmes, both strategic and tactical. I believe it is very much a special relationship.'
The Prime Minister and Secretary Gates had a meeting on Monday 7 June and discussed latest developments in Afghanistan, including the outcome of the recent peace jirga. The Prime Minister reiterated UK support for US strategy, including the plan progressively to transition security responsibilities to the Government of Afghanistan as their capacity develops. The Prime Minister and Secretary Gates also discussed Iran's nuclear programme and the importance of securing early agreement on an additional package of sanctions.
Published 9 June 2010