Foreign Secretary meets Tunisian Foreign Minister
Foreign Secretary William Hague met Tunisian Foreign Minister Rafik Abdessalam in London on 28 March.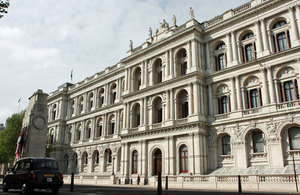 Speaking after the meeting the Foreign Secretary said:
"Last January, after years of misgovernment, the Tunisian people rose up against an entrenched autocracy. Their desire for dignity, freedom and democratic accountability inspired the world, and I am delighted to welcome Foreign Minister Abdessalam to London today.
"I am pleased that, following successful elections in October, a new broad-based Government has been established, and the Constituent Assembly is leading work to draft a new Constitution based on democratic values and human rights. We do not underestimate the challenges ahead, nor the patience required, but the UK, with our international partners, will continue to support these efforts. Through an expanded Arab Partnership programme, we are supporting sustainable economic growth, political participation and freedom of expression. We are working with partners such as BBC Media Action to support reform of the state media; and Article 19 who are working with local civil society organisations to ensure that freedom of expression is respected and enshrined in law.
"This visit has also helped to further strengthen the already good ties existing between our two countries. British companies are significant investors in the energy and tourism sectors. There is real potential for expansion. We are working with the Tunisian Government to create openings in other areas where the UK is a global leader, such as renewable energy and financial services, and these initiatives in turn would create new job opportunities for the Tunisian people.
"Tunisia is playing a positive role within the region. We hope that the active diplomacy of President Marzouki will promote greater Maghreb integration and trade, and we welcome Tunisia's offer to host the Arab Maghreb Union summit in the autumn. Tunisia has also been steadfast in its support for human rights in Syria, and hosted the first meeting of the Friends of Syria on 24 February. Bringing an end to the violence of the Assad regime will require concerted effort from countries of the region, and I welcome Tunisia's commitment to support this."
Minister Abdessalam added:
"I had the opportunity to express to Mr William Hague Tunisia's appreciation for the support it has received from the United Kingdom following the success of the Tunisian Revolution. Mr Hague was indeed the first foreign dignitary to visit Tunisia immediately after the revolution and announced Britain's support for the democratic transformation of Tunisia. We discussed our bilateral cooperation and the various opportunities now offered to enhance political and economic ties between our two countries in a variety of fields and sectors. I assured Mr Hague of Tunisia's engagement to establish a democratic and open society and we look forward to a greater British businesses and interests presence in Tunisia."
During his visit to the UK, Mr Abdessalam also met The Duke of York, Foreign Office Minister Lord Howell of Guildford and the Mayor of the City of London, David Whootton.
Published 29 March 2012