Foreign Secretary meets Prime Minister Valdis Dombrovskis of Latvia
The Foreign Secretary, William Hague, met Prime Minister Valdis Dombrovskis of Latvia in London on 12 August. The Foreign Secretary welcomed Latvia's participation in the London 2012 Olympic games.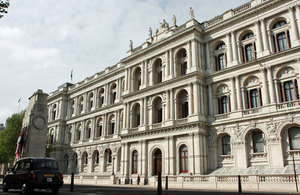 During the meeting the two leaders discussed a wide range of bilateral, European and international matters. The Foreign Secretary raised the next UK-Nordic/Baltic Prime Ministers summit, which will be held in Riga next year, and re-iterated the UK's commitment to this initiative which focuses on domestic policy issues such as labour market challenges, entrepreneurship and growth.
The Foreign Secretary congratulated Latvia on their performance in the Olympic games, particularly in winning gold in the BMX and bronze in the beach volleyball.
Published 12 August 2012