News story
Foreign Secretary meets President of Palestinian National Authority
Foreign Secretary William Hague discussed recent developments in the Middle East Peace Process with President Abbas.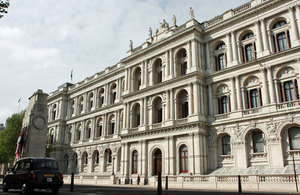 A Foreign Office Spokesperson said:
"Foreign Secretary William Hague met Palestinian President Mahmoud Abbas in New York on 20 September. The Foreign Secretary and President Abbas compared notes on recent developments in the Middle East Peace Process. The Foreign Secretary assured President Abbas of the United Kingdom's determination to work for an early resumption of talks between Israel and the Palestinian Authority."
Speaking from the UN General Assembly in New York on 19 September, the Foreign Secretary said:
"We along with twenty six countries of the European Union have withheld our position on how we would vote on any resolution that may come forward in the General Assembly in order to exert as much pressure on both sides to return to negotiations. That is the only real way forward."
Read the full story.
Published 20 September 2011