Foreign Secretary meets Premier of Quebec
During his meeting with Premier Charest, Foreign Secretary William Hague discussed the EU-Canada Comprehensive Economic and Trade Agreement (CETA).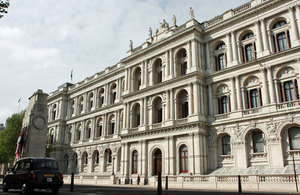 The Foreign Secretary also spoke of the strong partnership between the UK and the Canadian province of Quebec.
He said:
"Canada is one of the United Kingdom's oldest and closest allies. Our partnership remains extremely strong and based on enduring values. We continue to co-operate in a wide range of areas: from the Commonwealth; to the mission in Afghanistan; to our strong trade relationship. Canada's armed forces have shown tremendous support, alongside those of the UK and NATO, as part of ongoing operations to protect the people of Libya from the Qadhafi regime.
"Against the backdrop of that close relationship, it was a great pleasure to welcome Premier Charest to London today. The UK and Quebec have a long history of economic and cultural connections that remain strong today. The UK is Quebec's second largest business partner and we value our considerable trading and investment relationship. During the meeting, I had the opportunity to hear from Mr. Charest about the Plan Nord, an ambitious economic, social and environmental project which we both hope will lead to more fruitful collaboration between the UK and Quebec.
"We also discussed the EU-Canada Comprehensive Economic and Trade Agreement (CETA). The UK strongly supports the conclusion of the CETA and we hope that the negotiations, in which Canada's provinces are directly involved, will make good progress at the next round in July. Mr. Charest has been a strong proponent of CETA and I welcome his support for a successful conclusion to this important agreement."
Published 27 June 2011