Foreign Secretary meets Panama Foreign Minister
Foreign Secretary William Hague said that Panama is an important partner for the UK when he met the country's Foreign Minister in London today.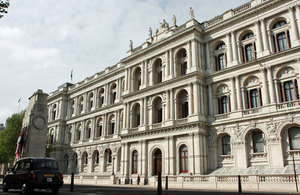 He said:
"I am delighted to have met Foreign Minister Roberto Henriquez of Panama today following my brief visit to the country in January this year and President Martinelli's visit to the UK last November. This builds on a step-change in inward and outward visits with Panama.
"Panama is an important partner for the UK, reflecting its growing status as a regional hub and an important player in both economic and political spheres. We work closely with Panama on many high-profile issues, from security cooperation to education and trade and investment.
"Today's meeting demonstrates that our engagement with Latin America is getting stronger and stronger, and also that our links are improving as a result. The Foreign Office has recently opened new posts in Brazil and in El Salvador, demonstrating the commitment we attach to the region.
"Today we discussed Panama's participation in the upcoming London Olympic Games, and we hope that President Martinelli will join Panama's athletes at the Games this summer. I look forward to continuing with our strong and productive relationships in the years to come."
Published 10 May 2012