Foreign Secretary meets Moldovan Deputy Prime Minister
Foreign Secretary William Hague and Minister for Europe David Lidington met Moldovan Deputy Prime Minister and Minister of Foreign Affairs and European Integration Iurie Leanca in London on 7 September.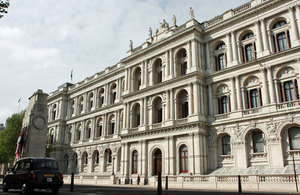 The Ministers discussed Libya, Syria, human rights, the Eastern Partnership, Moldova's progress in negotiating an Association agreement with the European Union, and the prospects for the opening of negotiations on a Deep and Comprehensive Free Trade Agreement between Moldova and the EU.
The Minister for Europe reiterated the UK's clear support for an EU membership perspective for partners able and willing to meet the necessary political and economic accession criteria.
The Foreign Secretary underlined continued UK support for ongoing efforts to achieve a sustainable solution on Transnistria and called for all parties to resume the formal 5+2 negotiating process as soon as possible.
Published 8 September 2011