Foreign Secretary meets King of Jordan
Foreign Secretary William Hague discussed regional issues during talks with His Majesty King Abdullah of Jordan on Monday, June 18.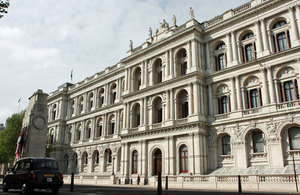 The talks were also attended by the Home Secretary the Rt Hon Theresa May MP, the Minister for the Middle East Alistair Burt MP, and the Foreign Minister of Jordan H.E Nasser Judeh.
Following the meeting, the Foreign Secretary said:
"Jordan and the UK are longstanding friends and allies and the relationship between our countries continues to thrive. During our talks we discussed regional issues, and agreed on the need to end the appalling violence in Syria and move to a genuine political process. We agreed that Israelis and Palestinians must take urgent steps to take forward the Middle East Peace Process. We also discussed the Iranian nuclear issue and our joint hope that Iran will engage in detailed discussion on the proposals that the E3+3 had put forward.
"King Abdullah outlined the progress of his efforts to institute reforms to meet the aspirations of the Jordanian people for greater political participation, economic opportunity and transparency. I welcomed the creation of the Independent Electoral Commission and the intention to hold inclusive, free and fair elections around the end of the year. We also discussed the difficult economic situation in Jordan and how the UK and EU are seeking to help. I welcomed the co-operation the Jordanian Government has extended to allow for the return of Abu Qatada."
Published 18 June 2012