Foreign Secretary meets King Abdullah of Jordan
Foreign Secretary William Hague met His Majesty King Abdullah II of Jordan and Foreign Minister Nasser Judeh on 10 November.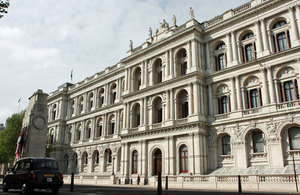 They discussed recent developments in the region, including the need for urgent progress on the Middle East Peace Process and the situation in Syria. The Foreign Secretary emphasized the strength of the UK's historic relationship with Jordan.
Speaking after the meeting, the Foreign Secretary said:
"We had a very positive meeting. We discussed the historic changes ushered in by the Arab Spring and I welcomed His Majesty's leadership in support of political and economic reform in Jordan. We discussed His Majesty's ongoing efforts, agreeing on the need to implement reforms to meet the aspirations of the Jordanian people for greater political participation, economic opportunity and transparency. I emphasized that the UK will continue to support this work, discussing how best to bolster economic co-operation with Jordan, including through our Arab Partnership Fund, for example through the Oasis 500 project supporting Jordan's entrepreneurs of tomorrow.
"We also discussed regional issues, focusing on the emergency Arab League meeting on Saturday which will discuss the deplorable situation in Syria. We agreed that the Arab League should continue its efforts to help bring an immediate end to the violence, with the support of the international community".
Published 11 November 2011