Press release
Foreign Secretary meets Jordanian Foreign Minister
Foreign Secretary and Jordanian Foreign Minister discuss Syria and the Middle East Peace Process.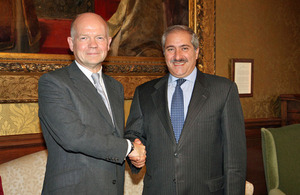 Following talks in London on 5 September between the Foreign Secretary and the Jordanian Foreign Minister Nasser Judeh, a Foreign Office spokesperson said:
The Foreign Ministers welcomed the excellent state of bilateral relations between the UK and Jordan. The Foreign Ministers condemned the use of chemical weapons in Syria and agreed this required a robust and determined response from the international community. They also agreed on the need to bring the appalling violence in Syria to an end through a political solution, and to protect Jordan and Syria's other neighbours from the consequences of the crisis. The Foreign Secretary thanked Jordan for its generosity in hosting over 550,000 Syrian refugees, and welcomed the people of Jordan's continued efforts to assist their Syrian neighbours. To date the UK has committed £77 million to assist the response and is determined to continue to support its friend and ally Jordan at this difficult time.

The Foreign Ministers also agreed on the critical importance and urgency of achieving a two-state solution to the Israeli-Palestinian conflict. They welcomed the resumption of negotiations and expressed their strong support for US-led efforts. The Foreign Secretary commended Jordan's leading role in encouraging those negotiations.
Further information
Follow the Foreign Secretary on twitter @WilliamJHague
Follow the Foreign Office on twitter @foreignoffice
Follow the Foreign Office on facebook and Google+
Published 5 September 2013