Foreign Secretary meets Israeli Defence Minister
Foreign Secretary William Hague discussed developments across the Middle East in his meeting with Israeli Defence Minister Ehud Barak on 17 March.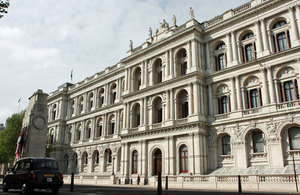 The two ministers discussed developments across the Middle East including in Libya and Egypt and the need for progress on the Middle East Peace Process and in Gaza.
The Foreign Secretary stressed that as a longstanding friend of Israel we remain fully committed to Israel's security. He reiterated his sympathy for the friends and relatives of the family killed in Itamar on 11 March and again condemned the murder and its cruelty and brutality.
The Ministers also had a detailed discussion on the continued threat posed by Iran's nuclear programme and the need for Iran to address the concerns of international community as set out in numerous UNSCRs and IAEA reports. They also discussed the interdiction by Israeli commandos on 15 March of a cargo ship carrying weapons and ammunition, and the allegation that these were from Iran destined for the Gaza Strip.
Speaking after the meeting the Foreign Secretary said:
"I had a constructive wide-ranging meeting with Defence Minister Barak today. I underlined that the UK unreservedly condemns the murder of the family in Itamar on 11 March. On the Middle East Peace Process the UK has been clear that both sides should urgently return to negotiations, based on clear parameters supported by the international community, in order to resolve final status issues. Together with France and Germany we have set out our views on what those parameters should be. I reiterated this position today and expressed our serious concern over the recent announcement of 400 new housing units in the West Bank. Continued settlements run contrary to peace.
We also discussed Iran and the recent seizure of arms allegedly bound for Gaza. If, as the evidence suggests, this was indeed an arms shipment from Iran, and following last week's exposure of the NATO seizure of Iranian arms destined for the Taleban, it would be another flagrant and unacceptable breach of UN Security Council Resolutions by Iran and further evidence of Iran's intention to disrupt stability in the region".
Published 17 March 2011