Foreign Secretary meets Irish Foreign Minister
Foreign Secretary William Hague underlined the UK's strong relationship with Ireland when he met Irish Foreign Minister Eamon Gilmore today.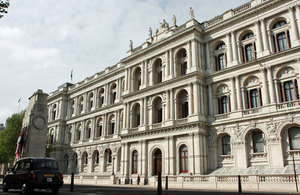 Today's meeting looked towards the State Visit by The Queen next week. The UK's intention for the visit is to look to further bilateral cooperation around prosperity and growth and trade and investment links.
The Foreign Secretary assured the Irish Foreign Minister of the UK's support on their EU Presidency, which Ireland take over in 2013, and also Ireland's candidacy for the Human Rights Council.
They discussed other areas such as the current situation in the Middle East and EU enlargement issues.
Published 9 May 2011